Ad blocker interference detected!
Wikia is a free-to-use site that makes money from advertising. We have a modified experience for viewers using ad blockers

Wikia is not accessible if you've made further modifications. Remove the custom ad blocker rule(s) and the page will load as expected.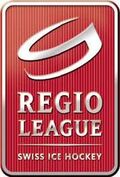 The Regio League is a part of the Swiss hockey scheme. They essentially comprise four levels of senior amateur hockey, the 1.Liga, 2.Liga, 3.Liga and 4.Liga.
Many teams in the lower levels are reserve teams of other from higher level. For instance, HC Franche-Montagne plays in the 1.Liga; its first reserve team, HC Franche-Montagne II plays in the 2.Liga and its third reserve, HC Franche-Montagne III, plays in the 4.Liga.
League scheme
Edit
This table illustrates the leagues and division repartition of the Regio League. Number between brackets is the number of teams in the division.
Regio League scheme
League
Divisions
1.Liga
Ostschweiz (13)
Zentralschweiz (12)
Suisse Romande (12)
2.Liga
Group 1 (12)
Group 2 (12)
Group 3 (10)
Group 4 (10)
Group 5 (10)
Group 6 (10)
3.Liga
Group 1 (6)
Group 2 (7)
Group 3 (10)
Group 4 (12)
Group 5 (8)
Group 6 (8)
Group 7 (8)
Group 8 (8)
Group 9 (10)
Group 10???
Group 11 (9)
Group 12 (10)
4.Liga
Group 1 (5)
Group 2 (?)
Group 3 (9)
Group 4 (7)
Group 5 (9)
Group 5a (7)
Group 5b (8)
Group 6a (7)
Group 6b (8)
Group 7a (8)
Group 8a (7)
Group 8b (7)
Group 9a (10)
Group 9b (9)
Group 11a (8)