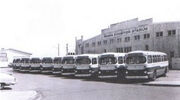 The Regina Exhibition Stadium is an indoor arena located in Regina, Saskatchewan. Built in 1919, it is a part of the Regina Exhibition Park and hosted the Regina Pats of the Western Hockey League before the construction of the Agridome in 1977. Artificial ice was introduced in the 1938-39 season.
Exhibition Stadium still stands today and is used for agricultural exhibitions, minor hockey, broomball, and other special occasions. It is presently the oldest standing hockey arena in Canada still in use.
Recent announcements from Evraz Place (the former Exhibition Association in Regina) will see the construction of 6 new arenas adjacent to the main ice arena in Regina, the Brandt Centre, formerly the Agridome. With this exciting project being announced, the removal of 22 aging trade and exhibition buildings is inevitable...including the Regina Exhibition Stadium.