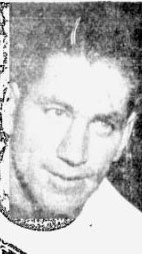 Reg Bentley (born May 3, 1914, date of death unknown) was a Canadian professional ice hockey player who played 11 games in the National Hockey League. He was born in Delisle, Saskatchewan and played with the Chicago Black Hawks.
Two of his brothers, Doug and Max are both members of the Hockey Hall of Fame. Reg's only NHL goal was assisted by Doug and Max.
He started out playing senior hockey with the Delisle Tigers (1931-33) and the intermediate Kerrobert Tigers (1933-35). After that Bentley played senior with the Saskatoon Standards, Saskatoon Quakers, Moose Jaw Millers, and the Drumheller Miners until 1941.
Bentley turned pro with the Kansas City Americans in 1941-42. The following season he was called up by the Chicago Black Hawks and played in 11 games, scoring 1 goal (assisted by his brothers) and 2 assists. That was the extent of his NHL experience.
He returned to Canada and played senior again for the Esquimalt Navy, Moose Jaw Victorias, and Calgary Currie Army until 1945.
After 1945 he played for the New Westminster Royals, Saskatoon Quakers, and Yorkton Legion, retiring in 1952.
References
Edit
Ad blocker interference detected!
Wikia is a free-to-use site that makes money from advertising. We have a modified experience for viewers using ad blockers

Wikia is not accessible if you've made further modifications. Remove the custom ad blocker rule(s) and the page will load as expected.