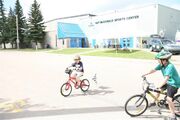 The Ray McDonald Arena is an indoor ice rink located in Morinville, Alberta.  The facility is home to the Morinville Jets of the Capital Junior Hockey League.

The structure originally opened in the 1940's as an aircraft hangar used by the Department of National Defence.  The facility was reconstructed in 1965 to create the hockey rink.
The facility under went repairs several rounds of extensive repairs starting in 2002   The facility was believed to have a life of about 50 years. 
The town has started to work on planning for a new arena (and additional recreation facilities) to replace this one as the facility is expected to need over $4 million in work to keep the facility usable for another five years. Cost to maintain the facility beyond that would be well over half the cost of the proposed new facilities.