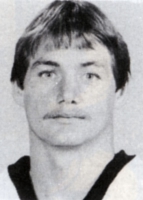 Raymond Peter Allison
Selected by Hartford Whalers 1st round (#18) in 1979 NHL Entry Draft

played on line with Bill Derlago and Brian Propp for Brandon in 1976-77 and 1977-78. ... he and Propp combined with Laurie Boschman in 1978-79 to record 220 goals and 276 assists as a line, a junior record. ... scored 450 points in his final three junior seasons. ... first player drafted in history of Hartford/Carolina franchise. ... also scored first goal in franchise history during first 1979 preseason game. ... made debut in Hartford first NHL regular season game, October 11, 1979. ... traded to Philadelphia in a ten-player deal, July 3, 1981. ... as a member of the Flyers, Allison, Propp, and Bill Barber set a club record for the fastest three goals, scoring in 35 seconds against Quebec on November 7, 1982. ... had a career year in 1982-83, scoring 21 goals, but the following year he missed nearly half the season after sliding into a goalpost and breaking his ankle. ... was never the same after that, and in 1987 he moved to Switzerland to try to resuscitate his career. ... played both in Europe and in the AHL for two years, and one more in the AHL before retiring in 1990. ...
Career Statistics
Edit
Awards & Achievements
Edit
Career Moves
Edit
Traded to Philadelphia by Hartford with Fred Arthur and Hartford's 1st and 3rd round choices in 1982 Entry Draft for Rick MacLeish, Blake Wesley, Don Gillen and Philadelphia's 1st, 2nd, and 3rd round choices in 1982 Entry Draft, July 3, 1981.
External links
Edit
Ad blocker interference detected!
Wikia is a free-to-use site that makes money from advertising. We have a modified experience for viewers using ad blockers

Wikia is not accessible if you've made further modifications. Remove the custom ad blocker rule(s) and the page will load as expected.