Ad blocker interference detected!
Wikia is a free-to-use site that makes money from advertising. We have a modified experience for viewers using ad blockers

Wikia is not accessible if you've made further modifications. Remove the custom ad blocker rule(s) and the page will load as expected.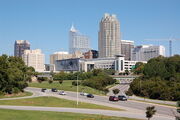 Raleigh is the capital of North Carolina, United States. It has a population of over 380,000 and a metro population of over 1,600,000.
Raleigh hosted the 2004 NHL Entry Draft and the 58th NHL All-Star Game in 2011.
Dorton Arena (1952-Present)
PNC Arena (1999-Present) known as Raleigh Entertainment & Sports Arena (1999–2002) and RBC Center (2002-2012)
Raleigh Center Ice (formerrly The RecZone)
Raleigh Ice Plex
External Links
Edit