Ad blocker interference detected!
Wikia is a free-to-use site that makes money from advertising. We have a modified experience for viewers using ad blockers

Wikia is not accessible if you've made further modifications. Remove the custom ad blocker rule(s) and the page will load as expected.

Radek Martínek (born August 31, 1976 in Havlíčkův Brod, Czechoslovakia) is an ice hockey defenceman, currently playing for the New York Islanders of the NHL.
Playing career
Edit
Martínek was an 8th round selection, 228th overall by the Islanders in the 1999 NHL Entry Draft. He joined the Islanders in 2001, and has been a mainstay on their blueline since that time. With the exception of Rick DiPietro, Martinek has the longest tenure with the team of any current player.
Martinek is considered an excellent two way defenseman who will successfully pinch in from the point and make accurate passes out of the defensive zone. He plays with poise, and owns a good shot from the point.
Martínek won the 2001 World Championship as a member of the Czech National Team.
Career statistics
Edit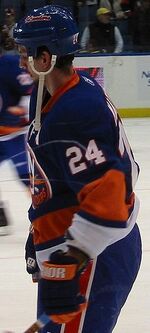 Regular season
Playoffs
Season
Team
League
GP
G
A
Pts
PIM
GP
G
A
Pts
PIM
1996–97
HC České Budějovice
CZE
52
3
5
8
40
5
0
1
1
2
1997–98
HC České Budějovice
CZE
42
2
7
9
36
—
—
—
—
—
1998–99
HC České Budějovice
CZE
52
12
13
25
50
3
0
2
2
0
1999–00
HC České Budějovice
CZE
45
5
18
23
24
—
—
—
—
—
2000–01
HC České Budějovice
CZE
44
8
10
18
45
—
—
—
—
—
2001–02
New York Islanders
NHL
23
1
4
5
15
—
—
—
—
—
2002–03
Bridgeport Sound Tigers
AHL
3
0
3
3
2
—
—
—
—
—
2002–03
New York Islanders
NHL
66
2
11
13
26
4
0
0
0
4
2003–04
New York Islanders
NHL
47
4
3
7
43
5
0
1
1
0
2004–05
HC České Budějovice
CZE-2
30
12
18
30
80
12
2
3
5
6
2005–06
New York Islanders
NHL
74
1
16
17
32
—
—
—
—
—
2006–07
New York Islanders
NHL
43
2
15
17
40
—
—
—
—
—
2007–08
New York Islanders
NHL
69
0
15
15
40
—
—
—
—
—
2008–09
New York Islanders
NHL
51
6
4
10
28
—
—
—
—
—
NHL totals
373
16
68
84
225
9
0
1
1
4
External links
Edit