Ad blocker interference detected!
Wikia is a free-to-use site that makes money from advertising. We have a modified experience for viewers using ad blockers

Wikia is not accessible if you've made further modifications. Remove the custom ad blocker rule(s) and the page will load as expected.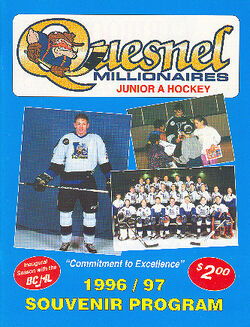 The Quesnel Millionaires are a Junior "A" ice hockey team from Quesnel, British Columbia, Canada. They have been a part of the British Columbia Hockey League since the 1996-97 season, when they joined the league as an expansion member of the Interior Conference. The Millionaires had previously played in the Peace-Cariboo Junior Hockey League (1975-1991) and the Rocky Mountain Junior Hockey League (1991-1996). Their home rink, Quesnel Twin Arenas, is nicknamed "The Vault".
Notable Alumni
Edit
Season-by-Season Record
Edit
Note: GP = Games Played, W = Wins, L = Losses, T = Ties, OTL = Overtime Losses, GF = Goals for, GA = Goals against
| | | | | | | | | | | |
| --- | --- | --- | --- | --- | --- | --- | --- | --- | --- | --- |
| Season | GP | W | L | T | OTL | GF | GA | Points | Finish | Playoffs |
| 1996-97 | 60 | 6 | 52 | 2 | 0 | 197 | 402 | 14 | 6th in Interior | DNQ |
| 1997-98 | 60 | 21 | 37 | 2 | 0 | 220 | 329 | 44 | 6th in Interior | DNQ |
| 1998-99 | 60 | 23 | 36 | 0 | 1 | 222 | 342 | 47 | 5th in Interior | DNQ |
| 1999-00 | 60 | 19 | 36 | 0 | 5 | 203 | 277 | 43 | 5th in Interior | DNQ |
| 2000-01 | 60 | 25 | 25 | 0 | 10 | 229 | 244 | 60 | 4th in Interior | Lost in Quarter-finals |
| 2001-02 | 60 | 24 | 30 | 0 | 6 | 253 | 307 | 54 | 5th in Interior | Lost in Preliminary |
| 2002-03 | 60 | 23 | 30 | 2 | 5 | 232 | 270 | 53 | 5th in Interior | Lost in Preliminary |
| 2003-04 | 60 | 10 | 45 | 1 | 4 | 143 | 287 | 25 | 8th in Interior | DNQ |
| 2004-05 | 60 | 21 | 29 | 2 | 8 | 177 | 256 | 52 | 8th in Interior | DNQ |
| 2005-06 | 60 | 8 | 41 | 2 | 9 | 142 | 278 | 27 | 8th in Interior | DNQ |
| 2006-07 | 60 | 8 | 47 | 0 | 5 | 149 | 305 | 21 | 9th in Interior | DNQ |
| 2007-08 | 60 | 19 | 36 | 0 | 5 | 175 | 254 | 43 | 7th in Interior  | DNQ |
| 2008-09 | 60 | 16 | 40 | 0 | 4 | 160 | 268 | 36 | 7th in Interior  | DNQ |