Ad blocker interference detected!
Wikia is a free-to-use site that makes money from advertising. We have a modified experience for viewers using ad blockers

Wikia is not accessible if you've made further modifications. Remove the custom ad blocker rule(s) and the page will load as expected.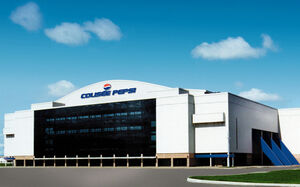 Quebec City is a city of the province of Quebec, Canada. Provincial capital, it is the second largest city of Quebec after Montreal and the oldest of the province; Quebec City celebrated its 400th birthday in 2008. It is home to 491,142 persons; its metropolitan area has a population of 715,515.
Hockey in Quebec City
Edit
Among the major events held in Quebec City include:
Major League
Edit
(World Hockey Association, 1972-1979) join National Hockey League
(National Hockey League 1979-1995) become Colorado Avalanche
Minor League
Edit
(Quebec Hockey League, 1953-1959) join AHL
(American Hockey League, 1959-1971) become Richmond Robins
(Canadian American Hockey League, 1926-1928) team goes on hiatus
(Eastern Canada Hockey Association, 1931-1932) join CAHL
(Canadian American Hockey League, 1932-1935) become Springfield Indians
(Quebec Semi-Pro Hockey League, 1997-1998) go dormant, return as Cote-de-Beaupre As in 2000
(Quebec Semi-Pro Hockey League, 2001-2003) renamed Quebec Radio X, league renamed QSMHL
(Quebec Senior Major Hockey League, 2003-2004) league renamed LNAH
(Ligue Nord-Américaine de Hockey, 2004-2008) become Pont Rouge Lois Jeans
(Quebec City League, 1914-1915)
(Quebec City League, 1921-1923)
(Quebec City League, 1920-1920)
(Quebec City League, 1922-1923)
(Interprovincial Hockey Union, 1913-1914) join Quebec City League
(Quebec City League, 1914-1916)
(Quebec City League,  1920-1921)
(Quebec Senior Hockey League, 1940-1941)
(Interprovincial Hockey Union, 1913-1914) join Quebec City League
(Quebec City League, 1914-1917)
(Quebec City League, 1923-1924)
Senior Intermediate
Edit
(Quebec City National League, 1933-1934)
(Quebec City Intermediate League, 1940-1941)
(Quebec City National League, 1933-1934)
(Quebec City Intermediate League, 1937-1938)
(Quebec City Intermediate League, 1937-1938)
(Quebec City Intermediate League, 1940-1941)
Major Junior
Edit
(Junior Amateur Hockey Association, 1947-1949) league renamed QJHL
(Quebec Junior Hockey League, 1949-1953) join OHA Jr. A
(Provincial Junior League, 1960-1964) renamed Aces
(Quebec Junior Hockey League, 1953-1955) join Saguenay-Quebec Junior League
(Sageunay-Quebec Junior League, 1955-1956) join MMJL
(Metropolitan Montreal Junior League, 1956-1957)
Phantom Teams or Teams in leagues that never played
Edit
Women's Leagues
Edit
Junior B teams
Edit
University team
Edit
Champions
Edit
Players and staff
Edit
These people were born in Quebec City: