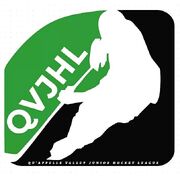 The Qu'Appelle Valley Junior C Hockey League is a Junior "C" level league operating in the greater Regina, Saskatchewan.  The league was founded for the 2015-16 season.  The league appears to be a replacement for the Regina Junior C Hockey League as the league has four members from the league's 2014-15 season.  the league is being partnered with the Qu'appelle Valley Senior Hockey League, which is a senior league in the same area.
For a link to the league's website visit http://www.qvhl.ca/leagues/standingsTotals.cfm?leagueID=12368&clientID=3986.  The league appears to be getting its own website www.qvjhl.ca
The Indian Head Chiefs appear to have fallen through during the process of the league being created.  They did not appear on the league schedule when it came out in the fall.
The league announced on March 8, 2017 the addition of the Bredenbury Tundra and the Wolseley Mustangs for the 2017-18 season.
At the April 2, 2017 league meeting the league added the Cupar Jr. Canucks and the Yellow Grass Wheatkings for the 2017-18 season
Regular Season Champions
Edit
2015-16 Regina River Rats
2016-17 Regina River Rats
2017-18 Wolseley Mustangs
Playoff Champions
Edit
2016 Regina River Rats
2017 Regina River Rats
2018 Wolseley Mustangs