The Provincial Junior Hockey League (PJHL) is a Canadian junior ice hockey league spanning Southern Ontario, and parts of Central Ontario. The PJHL is the third tier of the Ontario Hockey Association and is sanctioned by the Ontario Hockey Federation and Hockey Canada. The league was founded in 2016 with the merging of eight Junior C leagues. The winner of the league wins the Clarence Schmalz Cup.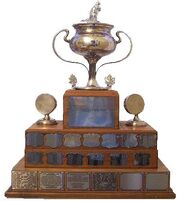 In the works since 2014, in the spring of 2016 it was announced that the eight Junior C leagues of the Ontario Hockey Association would merge for the 2016-17 season to create the Provincial Junior Hockey League. The union was in an effort to streamline rules across the classification and to promote growth and development.[1]
The leagues that formed the PJHL are the Central Ontario, Empire B, Georgian Mid-Ontario, Great Lakes, Midwestern, Niagara & District, Southern Ontario, and Western Ontario leagues.
The Erin Shamrocks announced on June 1, 2016 that they were granted a year's leave of absence for the 2016-17 season.
Former Teams
Edit
Champions
Edit
References
Edit
External links
Edit
Ad blocker interference detected!
Wikia is a free-to-use site that makes money from advertising. We have a modified experience for viewers using ad blockers

Wikia is not accessible if you've made further modifications. Remove the custom ad blocker rule(s) and the page will load as expected.