Ad blocker interference detected!
Wikia is a free-to-use site that makes money from advertising. We have a modified experience for viewers using ad blockers

Wikia is not accessible if you've made further modifications. Remove the custom ad blocker rule(s) and the page will load as expected.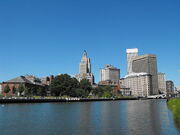 Providence is the capital and largest city in Rhode Island, United States.
It has a population of about 173,000 and a metropolitan population of about 1,600,000.
Providence has hosted:
the Frozen Four seven times: 1965, 1978, 1980, 1982, 1986, 1995, 2000.
1956 AHL All-Star Game and 1995 AHL All-Star Game and is scheduled to host the 2013 AHL All-Star Game
1985 and 1986 Hockey East Tournament Finals
NHL neutral site game March 16, 1993 Boston Bruins defeated the New Jersey Devils 3-1, with 10,864 in attendance
Canadian-American Hockey League (1926-1936) join International-American Hockey League
International-American Hockey League (1936-1940) league renamed American Hockey League
American Hockey League (1940-1976) renamed Rhode Island Reds
American Hockey League (1976-1977) merged/moved to Binghamton, NY as Dusters
University Teams
Edit
(ECAC 1962-Present)
(ECAC 1962-1984) joined Hockey East
Hockey East (1984-Present)
External Links
Edit