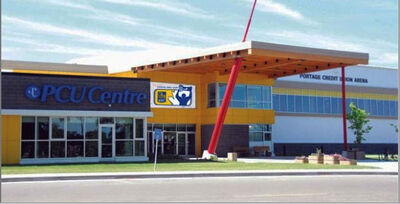 Portage la Prairie is a town of about 12,000 people in south-central Manitoba, Canada.
(Winnipeg and District Junior Hockey League 1920-1922) withdrew
(Manitoba Major Junior Hockey League, 1970-1972) had joined league a few weeks into the season after another league they were supposed to play in (a feeder league for the Manitoba Junior Hockey League) fell through
(Manitoba & Northwestern Hockey Association, 1903-1904) join MHA
(Manitoba Hockey Association, 1904-1908) withdrew
(Winniboine Intermediate Hockey League, 1951-1953) folded
(Canadian Central Hockey League, 1974-1974) withdrew from league before playing
(Manitoba Assiniboine Hockey League, 1974-1975)
Portage Credit Union (PCU) Centre
BDO Centre for the Community (formerly Centennial Arena)
Champions
Edit
Ad blocker interference detected!
Wikia is a free-to-use site that makes money from advertising. We have a modified experience for viewers using ad blockers

Wikia is not accessible if you've made further modifications. Remove the custom ad blocker rule(s) and the page will load as expected.