This is a list of franchise records for the Pittsburgh Penguins of the National Hockey League.
Career Leaders (1967-Present)
Edit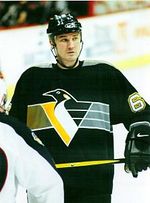 Single Season Records (Regular Season)
Edit
Most Wins By Team: 56 in 1992–93
Most Losses By Team: 58 in 1983–84
Most Points By Team: 119 in 1992–93
Most Goals By Team: 367 in 1992–93
Fewest Goals By Team: 182 in 1969–70
Most Goals Against By Team: 394 in 1982–83
Fewest Goals Against By Team: 188 in 1997–98
---For next 2 records goalie must play at least 30 games
Ad blocker interference detected!
Wikia is a free-to-use site that makes money from advertising. We have a modified experience for viewers using ad blockers

Wikia is not accessible if you've made further modifications. Remove the custom ad blocker rule(s) and the page will load as expected.