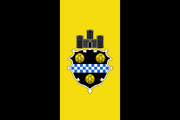 Pittsburgh is a city in western Pennsylvania, United States.
It has a population of over 300,000 with a metropolitan region of about 2,500,000.
Pittsburgh was home to the first artificial ice surface in North America at the Schenley Park Casino. This facility lead to the formation of the Western Pennsylvania Hockey League and eventually helped pave the way to the first ever openly professional ice hockey league, the International Professional Hockey League.
Pittsburgh also hosted the 2011 NHL Winter Classic at Heinz Field.
Pittsburgh hosted the 41st NHL All-Star game in 1990.
Pittsburgh hosted the 2014 Mens Frozen Four.
Universities
Edit
Western Pennsylvania Hockey League
International Professional Hockey League
External Links
Edit
Ad blocker interference detected!
Wikia is a free-to-use site that makes money from advertising. We have a modified experience for viewers using ad blockers

Wikia is not accessible if you've made further modifications. Remove the custom ad blocker rule(s) and the page will load as expected.