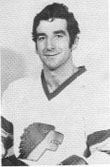 Pierre Henry (Born March 10, 1952, in Montreal, Quebec) is a retired hockey forward. He played 19 games in the World Hockey Association for the Philadelphia Blazers in 1972-73, scoring 2 goals and 3 assists.
He played junior hockey for the Drummondville Rangers from 1969 to 1972, scoring 82 points in 1971-72. Undrafted by the NHL, Henry joined the Blazers' system and played most of the 1972-73 season with the Roanoke Valley Rebels. After rejoining the Rebels in 1973-74, he played for the Philadelphia Firebirds from 1974 to 1976 and then retired.
Ad blocker interference detected!
Wikia is a free-to-use site that makes money from advertising. We have a modified experience for viewers using ad blockers

Wikia is not accessible if you've made further modifications. Remove the custom ad blocker rule(s) and the page will load as expected.