Ad blocker interference detected!
Wikia is a free-to-use site that makes money from advertising. We have a modified experience for viewers using ad blockers

Wikia is not accessible if you've made further modifications. Remove the custom ad blocker rule(s) and the page will load as expected.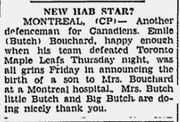 Pierre Émile Bouchard (born February 20, 1948, in Longueuil, Quebec) is a retired former professional player with the Montreal Canadiens and Washington Capitals.
Practicing a tough but clean style of hockey, Bouchard played an important role, along with Bill Nyrop, as a steady defensive-defensemen to the Canadiens' offensive "superstar" trio of Robinson, Savard and Lapointe which dominated the NHL blueline in the 70s. Bouchard was on five Stanley Cup winning teams with the Canadiens.
He was picked up on waivers by the Washington Capitals in 1978 when the Canadiens made a mistake. Bouchard played several seasons with the Capitals and their farm team the Hershey Bears before retiring.
His father is Canadiens' defenceman and Hockey Hall of Famer Émile "Butch" Bouchard.
Career statistics
Edit

                                            --- Regular season ---  ---- Playoffs ----
Season    Team                        Lge    GP    G    A  Pts  PIM  GP   G   A Pts PIM
--------------------------------------------------------------------------------------
1965-66   Palestre Nationale          QJHL   40    6   19   25   53
1966-67   Montreal Junior Canadiens   OHA    48    4    9   13  105
1967-68   Montreal Junior Canadiens   OHA    54   10   18   28  134
1968-69   Cleveland Barons            AHL    69    6   16   22   32   5   1   1   2  14
1969-70   Montreal Voyageurs          AHL    65    5   13   18  124   8   1   3   4  24
1970-71*  Montreal Canadiens          NHL    51    0    3    3   50  13   0   1   1  10
1971-72   Montreal Canadiens          NHL    60    3    5    8   39   1   0   0   0   0
1972-73*  Montreal Canadiens          NHL    41    0    7    7   69  17   1   3   4  13
1973-74   Montreal Canadiens          NHL    60    1   14   15   25   6   0   2   2   4
1974-75   Montreal Canadiens          NHL    79    3    9   12   65  10   0   2   2  10
1975-76*  Montreal Canadiens          NHL    66    1   11   12   50  13   2   0   2   8
1976-77*  Montreal Canadiens          NHL    73    4   11   15   52   6   0   1   1   6
1977-78*  Montreal Canadiens          NHL    59    4    6   10   29  10   0   1   1   5
1978-79   Washington Capitals         NHL     1    0    0    0    0  --  --  --  --  --
1979-80   Washington Capitals         NHL    54    5    9   14   16  --  --  --  --  --
1980-81   Washington Capitals         NHL    50    3    7   10   28  --  --  --  --  --
1981-82   Hershey Bears               AHL    62    2   10   12   26   5   0   0   0   6
1981-82   Washington Capitals         NHL     1    0    0    0   10  --  --  --  --  --
--------------------------------------------------------------------------------------
          NHL totals                        595   24   82  106  433  76   3  10  13  56

External links
Edit