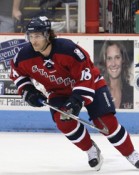 Pierre-Luc O'Brien (July 22, 1982 in Nicolet, Quebec) is a Canadian forward playing for the South Carolina Stingrays in the ECHL.
He played junior hockey for the Cowichan Valley Capitals from 2001 to 2003 and the played four years for Sacred Heart College in the NCAA.
Undrafted by any NHL team, O'Brien turned pro in 2007-08 with the Stingrays. He has spent most of his career with them.
Ad blocker interference detected!
Wikia is a free-to-use site that makes money from advertising. We have a modified experience for viewers using ad blockers

Wikia is not accessible if you've made further modifications. Remove the custom ad blocker rule(s) and the page will load as expected.