Ad blocker interference detected!
Wikia is a free-to-use site that makes money from advertising. We have a modified experience for viewers using ad blockers

Wikia is not accessible if you've made further modifications. Remove the custom ad blocker rule(s) and the page will load as expected.
The Picton Pirates are a Canadian Junior ice hockey team based in Picton, Ontario, Canada. They play in the Empire B Junior C Hockey League of the Ontario Hockey Association.
Nicknamed the "Patcheyes", the Picton Pirates were founded in 1989 as members of the Eastern Ontario Junior C Hockey League.
The Pirates' first three seasons were disastrous. With nine wins in three seasons, including a winless 1991-92 season, the Pirates did not have a lot to cheer about in the early going. Finally, in the fourth season of operation, the Pirates came to life. The Pirates celebrating winning seasons for the next ten years. They capped off this strong run with their only league championship in the 1998-99 season. The Pirates were also regular season champions in 1998 and 2000.
In 1995, the Eastern Ontario Junior C Hockey League changed its name to the Empire B Junior C Hockey League to avoid further confusion with the rather local Ottawa District Hockey Association's Eastern Ontario Junior C Hockey League.
In recent years, the Pirates records have been up and down.
In 2005-06, the Pirates finished the regular season in fourth place. In the playoff quarter-final, the Pirates drew the upstart Colborne Cobras. The series ended up being an upset as the it went the distance and the Pirates were defeated 3-games-to-2 in a best-of-five.
The 2006-07 season was not good to the Picton Pirates. They finished in fifth place, just barely outside the playoff picture.
Season-by-Season results
Edit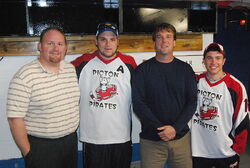 | | | | | | | | | | | |
| --- | --- | --- | --- | --- | --- | --- | --- | --- | --- | --- |
| Season | GP | W | L | T | OTL | GF | GA | P | Results | Playoffs |
| 1989-90 | 30 | 2 | 27 | 1 | - | 116 | 312 | 5 | 6th EOJCHL | |
| 1990-91 | 30 | 7 | 23 | 0 | - | 141 | 206 | 14 | 6th EOJCHL | |
| 1991-92 | 30 | 0 | 28 | 2 | - | 85 | 223 | 2 | 6th EOJCHL | |
| 1992-93 | 35 | 15 | 15 | 5 | - | 184 | 181 | 35 | 3rd EOJCHL | |
| 1993-94 | 36 | 19 | 12 | 5 | - | 214 | 159 | 43 | 2nd EOJCHL | |
| 1994-95 | 40 | 23 | 15 | - | 2 | 221 | 177 | 48 | 3rd EOJCHL | |
| 1995-96 | 42 | 23 | 14 | 0 | 5 | 214 | 173 | 51 | 4th EBJCHL | |
| 1996-97 | 42 | 26 | 15 | 1 | - | 211 | 158 | 53 | 2nd EBJCHL | |
| 1997-98 | 36 | 26 | 6 | 4 | - | 193 | 124 | 56 | 1st EBJCHL | |
| 1998-99 | 36 | 23 | 11 | 1 | 1 | 172 | 116 | 48 | 2nd EBJCHL | Won League |
| 1999-00 | 36 | 24 | 11 | 1 | 0 | 199 | 140 | 49 | 1st EBJCHL | |
| 2000-01 | 34 | 17 | 15 | 1 | 1 | 127 | 134 | 36 | 3rd EBJCHL | |
| 2001-02 | 36 | 18 | 12 | 3 | 3 | 164 | 156 | 42 | 3rd EBJCHL | |
| 2002-03 | 34 | 8 | 23 | 1 | 2 | 137 | 187 | 19 | 5th EBJCHL | |
| 2003-04 | 34 | 18 | 15 | 0 | 1 | 145 | 154 | 37 | 4th EBJCHL | |
| 2004-05 | 34 | 18 | 7 | 6 | 2 | 142 | 100 | 45 | 2nd EBJCHL | |
| 2005-06 | 34 | 13 | 20 | 1 | 0 | 129 | 132 | 27 | 4th EBJCHL | Lost Quarter-final |
| 2006-07 | 40 | 13 | 27 | 0 | 3 | 153 | 211 | 29 | 5th EBJCHL | DNQ |
| 2007-08 | 40 | 15 | 23 | - | 2 | 163 | 218 | 32 | 5th EBJCHL | |
| 2008-09 | 40 | 15 | 23 | - | 2 | 151 | 216 | 32 | 4th EBJCHL | |
| 2009-10 | 40 | 22 | 17 | - | 1 | 185 | 139 | 45 | 4th EBJCHL | Lost Semi-final |
External links
Edit