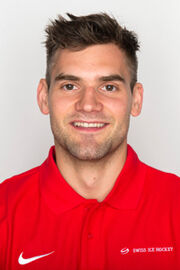 Phillipe Furrer (born June 16, 1985 in Berne, Switzerland) is a Swiss defenceman playing for SC Bern in the National League A.
He has played for SC Bern since his junior days in 2000 to 2002. The one exception has been two games for SC Langenthal in 2005-06.
Furrer has played for Switzerland in the following:
Ad blocker interference detected!
Wikia is a free-to-use site that makes money from advertising. We have a modified experience for viewers using ad blockers

Wikia is not accessible if you've made further modifications. Remove the custom ad blocker rule(s) and the page will load as expected.