Ad blocker interference detected!
Wikia is a free-to-use site that makes money from advertising. We have a modified experience for viewers using ad blockers

Wikia is not accessible if you've made further modifications. Remove the custom ad blocker rule(s) and the page will load as expected.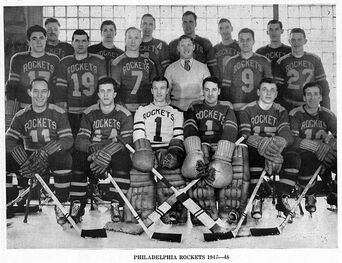 For the 1941-42 Philadelphia Rockets see Philadelphia Ramblers.
The Philadelphia Rockets were a minor professional team based in the Philadelphia Arena in Philadelphia, Pennsylvania. The Rockets played for three seasons in American Hockey League from 1946 to 1949. Previously another Rockets team existed for the 1941–42 AHL season, formerly known as the Philadelphia Ramblers.
When the original Rockets folded in 1942, they were replaced by the Philadelphia Falcons of the Eastern Hockey League. In 1946, the Falcons were replaced by the second Rockets team in the AHL. Four members of the Falcons (Vic Lofvendahl, Harvey Jacklin, Clayton Lavell, George DeFilice), made the jump to the higher league.
Season-by-season results
Edit
Season
Games
Won
Lost
Tied
Points
Goals
for
Goals
against
Standing
Playoffs
1942–43
46
17
27
2
36
167
195
5th, EHL
Data unavailable
1943–44
45
17
23
5
39
—-
—-
3rd, EHL
Data unavailable
1944–45
48
23
21
4
50
—-
—-
3rd, EHL
Data unavailable
1945–46
52
26
21
5
57
180
186
2nd, EHL
Data unavailable
1946–47
64
5
52
7
17
188
400
5th, East
Out of Playoffs
1947–48
68
22
41
5
49
260
331
4th, East
Out of Playoffs
1948–49
68
15
48
5
35
230
407
5th, East
Out of Playoffs
External links
Edit