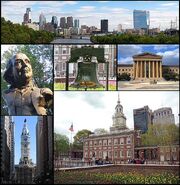 Philadelphia is the largest city in Pennsylvania, United States.
The city has a population of almost 1,500,000 and a metropolitan area of over 5,800,000.
Hockey in Philadelphia
Edit
Philadelphia Arrows (Canadian-American Hockey League, (1927-1935) renamed Ramblers
Philadelphia Blazers (WHA, 1972-1973) became Vancouver Blazers
Philadelphia Firebirds (NAHL, 1974-1977), (AHL, 1977-1979) became Syracuse Firebirds
Philadelphia Flyers (NHL, 1967-present)
Philadelphia Maroons (NHL, 1938-1938) folded before playing any games due to inadequate facilities
Philadelphia Quakers (NHL), (1930-1931) suspended operations pending new arena, formally folded May 7, 1936
Philadelphia Phantoms (AHL, 1996-2009) became Adirondack (Glens Falls, NY) Phantoms when arena is demolished
Philadelphia Quaker City (USAHA, 1920-1922)
Philadelphia Ramblers (Canadian-American Hockey League, 1935-1936), International Hockey League, 1936-1940), AHL, 1940-1941) renamed Rockets
Philadelphia Ramblers (EHL, 1955-1964) became Jersey Devils based in suburban Cherry Hill, NJ
Philadelphia Rockets (AHL, 1941-1942) supsended operations until 1946-1947 season
Philadelphia Rockets (AHL, 1946-1949) ceased operations
Senior Teams
Edit
Junior Teams
Edit
Philadelphia Arena (February 14, 1920-August 24, 1983) destroyed by arson, had been renamed in honor of Dr. Martin Luther King, Jr.
Philadelphia Civic Center (1931-1996)
Wells Fargo Center (August 31, 1996-Present) formerly known as (Spectrum II (prior to construction), formerly the CoreStates Center, First Union Center and Wachovia Center)
Wachovia Spectrum (1967-2009) (formerly known as the Spectrum (1967–1994), CoreStates Spectrum (1994–1998) and First Union Spectrum (1998–2003) building demolished from November 2010 to May 2011
Blue Cross River Rink At Penn's Landing
Flyers Skate Zone Northeast Philadelphia
Simons Ice Rink
Scanlon Ice Rink
Tarken Ice Rink
Laura Sims Skatehouse
Rizzo Ice Rink
Class of 1923 Ice Rink
Wissahickon Skating Club
Cherry Hill, New Jersey, home of Jersey Devils of EHL (1964-1971) and New Jersey Knights of WHA (1973-1974)
External Links
Edit
Ad blocker interference detected!
Wikia is a free-to-use site that makes money from advertising. We have a modified experience for viewers using ad blockers

Wikia is not accessible if you've made further modifications. Remove the custom ad blocker rule(s) and the page will load as expected.