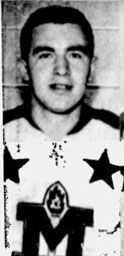 Philippe Latreille (born April 22, 1938 in Montreal, Quebec) was a professional ice hockey right winger who played four games in the National Hockey League. He played with the New York Rangers.
He played college hockey at Middlebury College in Vermont from 1957 to 1961 where he scored 214 goals in three seasons (total of 70 games). After his last year was finished he played in a four game tryout for the New York Rangers in 1960-61.
Latreille began the 1961-62 season with the Long Island Ducks but left them early to join the senior Montreal Olympics as they went all the way to the 1961-62 Allan Cup Final. He continued to play senior hockey until he retired in 1965.
References
Edit
Ad blocker interference detected!
Wikia is a free-to-use site that makes money from advertising. We have a modified experience for viewers using ad blockers

Wikia is not accessible if you've made further modifications. Remove the custom ad blocker rule(s) and the page will load as expected.