Ad blocker interference detected!
Wikia is a free-to-use site that makes money from advertising. We have a modified experience for viewers using ad blockers

Wikia is not accessible if you've made further modifications. Remove the custom ad blocker rule(s) and the page will load as expected.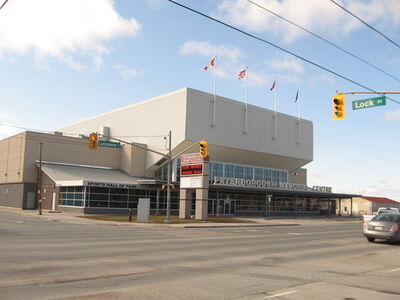 Peterborough is a city in the province of Ontario in Canada approximately 125 kilometers east of Toronto.
Its population is about 78,000 with a metropolitan area of about 115,000.
Hockey teams
Edit
Peterborough OHA Sr., 1892-1893; 1896-1901; 1906-1907; 1912-1913; 1924-1928;
(OHA Sr. B, 1948-1950) to Sr. A, levels merged for 50-1 season
(OHA Sr. B, 1951-1955)
Intermediate
Edit
Junior A & Major Junior
Edit
OHA Jr. A, 1956-1976) join OMJHL
(Ontario Major Junior Hockey League, 1974-1980) league renamed OHL
(Ontario Hockey League, 1980-Present)
(Central Ontario Junior A Hockey League, 1992-1993) join OPJHL
(Ontario Provincial Junior Hockey League, 1993-1997) renamed Bees
(Ontario Provincial Junior Hockey League, 2003-2009) join CCHL
(Central Canadian Hockey League, 2009-2010) join OJHL
(Ontario Junior Hockey League, 2010-2012) merged into Lindsay Muskies
Junior B & C & D
Edit
University team
Edit
Champions
Edit
Nortcrest Community Cenre
Evinrude Community Centre
Kinsmen Civic Centre