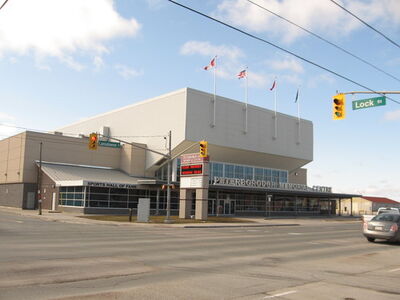 Peterborough is a city in the province of Ontario in Canada approximately 125 kilometers east of Toronto.
Its population is about 78,000 with a metropolitan area of about 115,000.
Hockey teams
Edit
Peterborough OHA Sr., 1892-1893; 1896-1901; 1906-1907; 1912-1913; 1924-1928;
(OHA Sr. B, 1948-1950) to Sr. A, levels merged for 50-1 season
(OHA Sr. B, 1951-1955)
Intermediate
Edit
Junior A & Major Junior
Edit
OHA Jr. A, 1956-1976) join OMJHL
(Ontario Major Junior Hockey League, 1974-1980) league renamed OHL
(Ontario Hockey League, 1980-Present)
(Central Ontario Junior A Hockey League, 1992-1993) join OPJHL
(Ontario Provincial Junior Hockey League, 1993-1997) renamed Bees
(Ontario Provincial Junior Hockey League, 2003-2009) join CCHL
(Central Canadian Hockey League, 2009-2010) join OJHL
(Ontario Junior Hockey League, 2010-2012) merged into Lindsay Muskies
Junior B & C & D
Edit
University team
Edit
Champions
Edit
Nortcrest Community Cenre
Evinrude Community Centre
Kinsmen Civic Centre
Ad blocker interference detected!
Wikia is a free-to-use site that makes money from advertising. We have a modified experience for viewers using ad blockers

Wikia is not accessible if you've made further modifications. Remove the custom ad blocker rule(s) and the page will load as expected.