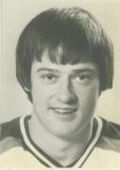 Peter Gerald Sullivan



He played junior hockey for the Oshawa Generals and was drafted 95th overall by the Montreal Canadiens in the 1971 NHL Amateur Draft. The Canadiens had a strong squad and Sullivan played in the minors, mostly for the Nova Scotia Voyageurs.
In 1975, Sullivan junped to the Winnipeg Jets of the World Hockey Association (WHA). He played for them for the last four years of their WHA tenure and the first two years of their NHL experience.
In 1981 he moved to Switzerland and played almost all of his career there until his retirement in 1987.
In the WHA, he played 313 games and scored 125 goals and 170 assists and won three Avco World Trophies. In the WHA playoffs he played in 52 games and scored 21 goals and 22 assists. In the NHL he played 126 games 28 goals and 54 assists. All of his WHA & NHL games were with the Winnipeg Jets.
Career Statistics
Edit
Awards & Achievements
Edit
AHL Second All-Star Team (1975)
Avco Cup World Hockey Association Championship (1976, 1978, & 1979)
NLA Most Goals (1982)
External links
Edit