Ad blocker interference detected!
Wikia is a free-to-use site that makes money from advertising. We have a modified experience for viewers using ad blockers

Wikia is not accessible if you've made further modifications. Remove the custom ad blocker rule(s) and the page will load as expected.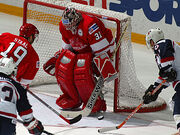 Peter Hirsch (born 6 March 1979 in Copenhagen, Denmark) is a Danish professional ice hockey goaltender. He is generally seen as the most capable Danish goalie. He currently plays for the Coventry Blaze in the Elite Ice Hockey League.
Playing career
Edit
After playing three seasons for Modo Hockey in the Swedish Elitserien, Hirsch spent a season with the Bakersfield Condors in the ECHL. During the 2007-08 season he represented AaB Ishockey in the Danish Elite League, where he on previous occasions had played for Rungsted IK and Nordsjælland Cobras.
Hirsch has served as Team Denmark's number-one goaltender in the IIHF Ice Hockey World Championships.
Hirsch is a highly experienced player and generally has kept a respectable GAA.
It has been reported in the Danish press that Peter Hirsch will be joining Coventry Blaze in the British EIHL Elite Ice Hockey League for the 2009/10 season.[1] Coventry Blaze confirmed the signing of Peter Hirsch on 21 April 2009.
Career statistics
Edit
| Team | League | Season | GP | GAA | Pts |
| --- | --- | --- | --- | --- | --- |
| Rungsted IK | Oddset Ligaen | 95/96 | 0 | 0.00 | 0 |
| Rungsted IK | Oddset Ligaen | 96/97 | 19 | 3.05 | 0 |
| IF Troja/Ljungby | Division 1 (SWE) | 97/98 | 0 | 0.00 | 0 |
| IF Troja/Ljungby | Division 1 (SWE) | 98/99 | 26 | 2.82 | 0 |
| IF Troja/Ljungby | Allsvenskan South | 99/00 | 29 | 2.94 | 0 |
| IF Troja/Ljungby | Superallsvenskan | 99/00 | 13 | 4.50 | 0 |
| Modo Hockey | Elitserien | 00/01 | 11 | 2.96 | 0 |
| Modo Hockey | Elitserien | 01/02 | 29 | 2.76 | 2 |
| Modo Hockey | Elitserien | 02/03 | 21 | 2.55 | 0 |
| Bakersfield Condors | ECHL | 03/04 | 14 | 2.70 | 0 |
| Malmö IF Redhawks | Elitserien | 04/05 | 5 | 4.67 | 0 |
| Nordsjaelland Cobras | Oddset Ligaen | 05/06 | 36 | 2.31 | 4 |
| Leksands IF | Hockey Allsvenskan | 06/07 | 30 | 2.09 | 0 |
| AaB Ishockey | Oddset Ligaen | 07/08 | 28 | 3.56 | 0 |
| Team Denmark | World Championships | 03,04,05,06,07 | 28 | 4.46 | 1 |
| Career | - | - | 299 | 2.75 | 9 |