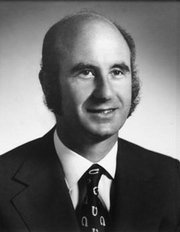 Peter Frederick Bronfman (1928 – December 1, 1996) was a Canadian businessman born in Montreal, and member of the Toronto branch of Canada's wealthy Bronfman family. He attended the elite Lawrenceville School in New Jersey, one of the oldest prep schools in America, and received his bachelor's degree from Yale University in 1952.
He was the co-founder (with his brother, Edward Bronfman) of Edper Group Limited. He and his brother also owned the Montreal Canadiens from 1971-1978, winning four Stanley Cups with the team 1973, 1976, 1977, 1978.
He died of cancer on December 1, 1996.
Further reading
Edit
The controlling hand of the Edper empire. The Independent. Retrieved on July 26, 2006.
Peter C. Newman, "Peter Bronfman: The gentle, lonely tycoon", Maclean's magazine (December 16, 1996)
Susan Gittins, Behind Closed Doors: The Rise and Fall of Canada's Edper Bronfman and Reichman Empires (1995)
Patricia Best and Ann Shortell, The Brass Ring: Power, Influence and the Brascan Empire (1988)
References
Edit