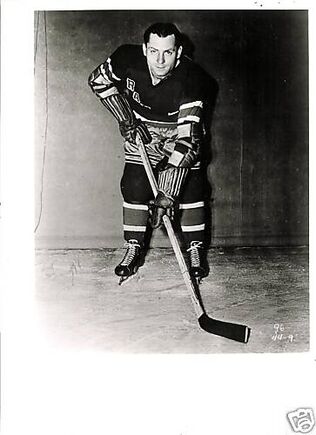 Pete Conacher (born July 29, 1932 in Toronto, Ontario) is a retired professional ice hockey player who played 229 games in the National Hockey League. He scored 47 goals and 39 assists. He is the son of Hall of Famer Charlie Conacher.
Conacher played with the Toronto Maple Leafs, Chicago Black Hawks, and New York Rangers.
He played junior hockey with the Chicago Blackhawks farm team the Galt Black Hawks from 1949-52. He turned pro with the Hawks in 1952-53, After 2 1/2 seasons he was traded to the New York Rangers in 1954.
In 1956 Conacher was traded to the American Hockey League (AHL)'s Buffalo Bisons which spelled the end of his NHL career. He spent nine seasons in the AHL with the Bisons and the Hershey Bears.
In 1959, Conacher took a break from the AHL to play for the World Champion Belleville McFarlands.
He retired in 1966.
References
Edit
Ad blocker interference detected!
Wikia is a free-to-use site that makes money from advertising. We have a modified experience for viewers using ad blockers

Wikia is not accessible if you've made further modifications. Remove the custom ad blocker rule(s) and the page will load as expected.