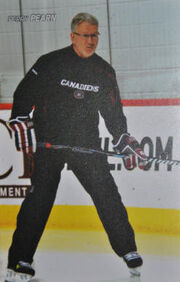 Perry Pearn was the assistant coach of the National Hockey League's Montreal Canadiens. Pearn held this position from July 6th, 2009 to October 26, 2011.
Pearn was fired along with Head Coach Tom Renney, on February 23, 2009 from his job as assistant coach of the Rangers.[1] Pearn was in charge of the defensive units with the Rangers. Previously he was an assistant for the Ottawa Senators for eight seasons (1996-2004) and the Winnipeg Jets for the 1995-96 campaign.
He was named assistant coach of the Montreal Canadiens on July 6, 2009.
References
Edit
External links
Edit
Ad blocker interference detected!
Wikia is a free-to-use site that makes money from advertising. We have a modified experience for viewers using ad blockers

Wikia is not accessible if you've made further modifications. Remove the custom ad blocker rule(s) and the page will load as expected.