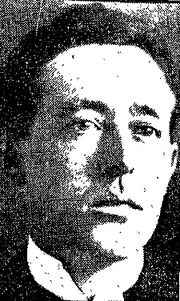 Percy J. Quinn (1878 – October 28, 1944) was an athlete, a successful businessman, sports promoter and politician in Toronto, Ontario, Canada. He was the owner and President of the Toronto Blueshirts, winners of the Stanley Cup in 1914.
Personal life
Edit
Born in Montreal, Quinn played hockey and lacrosse as a youth.
Ice hockey
Edit
Quinn was first involved in hockey as a coach and a referee in the early 1900s. When professional hockey was just beginning, Quinn was the manager of the first professional ice hockey team in Toronto, the Toronto Professional Hockey Club, which operated from 1906 until 1909. In 1911, he purchased a franchise in the National Hockey Association (NHA) to play in the new Arena Gardens of Toronto. The arena was not ready for the 1911–12 season, and the team began play in 1912–13. In only its second season, the Blueshirts would win the NHA championship and the Stanley Cup. He sold his share of the Blueshirts, turning the club over to Eddie Livingstone.
In 1918, Livingstone and Quinn would team up against the owners of the NHA, now operating as the National Hockey League (NHL). Together, they attempted to overthrow the NHL and form a new league, the "Canadian Hockey Association", but were unsuccessful as the rinks were controlled by the NHL or its partners.
References
Edit
Holzman, Morey; Nieforth, Joseph (2002). Deceptions and Doublecross: How the NHL conquered hockey. Toronto, Ontario: Dundurn Press. ISBN 1550024132.

 
Ad blocker interference detected!
Wikia is a free-to-use site that makes money from advertising. We have a modified experience for viewers using ad blockers

Wikia is not accessible if you've made further modifications. Remove the custom ad blocker rule(s) and the page will load as expected.