Peoria Mustangs

City:
Peoria, Illinois
League:
NA3HL
Founded:
1993
Home Arena:
Owens Center
Colors:
Navy, White, Light Tan, Light Blue


    

    

    

    

Owner(s):
Eric Brown, Darwin McPherson, Steve Ortman
General Manager:
Tyler Rennette
Head Coach:
Tyler Rennette
Franchise history
1993-present:
Peoria Mustangs
The Peoria Mustangs are a USA Hockey-sanctioned Tier III Junior A ice hockey team in the Central States Hockey League. The team plays their home games at the Owens Center in Peoria, Illinois.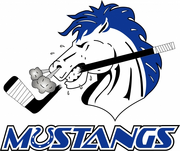 The Mustangs have had many alumni move on to , higher levels of junior ice hockey, NCAA, ACHA college, and profesional levels, including:
External Links
Edit
Ad blocker interference detected!
Wikia is a free-to-use site that makes money from advertising. We have a modified experience for viewers using ad blockers

Wikia is not accessible if you've made further modifications. Remove the custom ad blocker rule(s) and the page will load as expected.