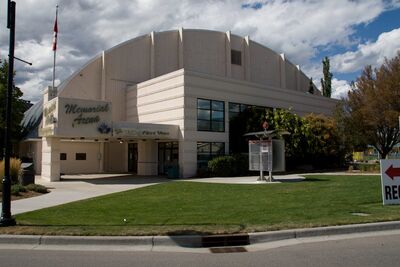 The Penticton Memorial Arena is a 2,212-seat multi-purpose arena in Penticton, British Columbia. It was home to the Penticton Vees ice hockey team. It is also home of the BC hockey hall of fame, and facilitates the Okanagan Hockey School and the Okanagan Hockey Academy. The arena opened in October of 1951 with the Penticton Vees. The team won the 1952-53 Western Canada Allan Cup Playoffs, won the 1953-54 Allan Cup Final, and were 1955 World Championship winners representing Canada.
Ad blocker interference detected!
Wikia is a free-to-use site that makes money from advertising. We have a modified experience for viewers using ad blockers

Wikia is not accessible if you've made further modifications. Remove the custom ad blocker rule(s) and the page will load as expected.