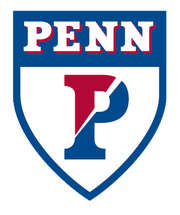 The Penn Quakers are the sports teams of the University of Pennsylvannia in Philadelphia, Pennsylvania.  The team is based out of the Penn Ice Rink at the Class of 1923 Arena which is located on campus.
They are a club-level team playing in the Great Northeast Collegiate Hockey Conference of the American Collegiate Hockey Association (ACHA).
They were an NCAA Division I team from 1965-66 through 1977-78. That team was cut because of budgetary problems.  Hockey dated back to 1898 at the school.
Ad blocker interference detected!
Wikia is a free-to-use site that makes money from advertising. We have a modified experience for viewers using ad blockers

Wikia is not accessible if you've made further modifications. Remove the custom ad blocker rule(s) and the page will load as expected.