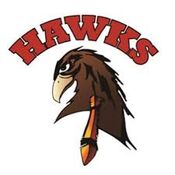 The Pembina Valley Hawks are a Canadian Midget AAA hockey team from the Pembina Valley region of Manitoba, based out of Morden. They are members of the Manitoba AAA Midget Hockey League (MMHL) and Hockey Manitoba.
Season-by-Season Record
Edit
Note: click on season for team rosters or on league for direct link to that season.
Ad blocker interference detected!
Wikia is a free-to-use site that makes money from advertising. We have a modified experience for viewers using ad blockers

Wikia is not accessible if you've made further modifications. Remove the custom ad blocker rule(s) and the page will load as expected.