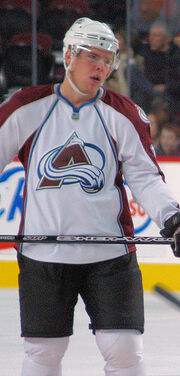 Paul Stastny (b. December 27, 1985 in Quebec City, Quebec, Canada) is a professional forward who plays in the National Hockey League for the Colorado Avalanche.
Son of Peter Stastny and brother of Yan, the former star of the University of Denver of the NCAA signed was drafted 44th overall of the 2005 NHL Entry Draft by the Colorado Avalanche, the same franchise that gave his father his chance in the NHL. He recorded his first ever point in the league on October 8th 2006, assisting on a goal by Wojtek Wolski.
On February 1st 2007, Stastny scored a pair of goals. This allowed him to pass Alex Tanguay's franchise record of 51 points in a rookie season. From February 3rd to March 17th, Stastny went on a 20 games-scoring streak, breaking not only the franchise rookie record his father Peter had established but also the league record that belonged to Teemu Selänne. He would finish the season with 78 points; he finished second to Evgeni Malkin in the Calder Memorial Trophy race.
Although born in Canada, Stastny chose to represent the United States in international competitions. He played for the American National Team in the 2004 Viking Cup and the 2007 World Championship, notably.
Ad blocker interference detected!
Wikia is a free-to-use site that makes money from advertising. We have a modified experience for viewers using ad blockers

Wikia is not accessible if you've made further modifications. Remove the custom ad blocker rule(s) and the page will load as expected.