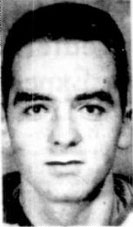 Paul Knox (born November 23, 1933 in Toronto, Ontario) was a Canadian right wing who played in one game only in the National Hockey League for the Toronto Maple Leafs. He also played for Canada in the 1956 Olympics.
He played junior for the St. Michael's Majors from 1951 to 1954. After that he played one season for the University of Toronto in 1954-55 and got called up for his sole NHL game.
Knox joined the Kitchener-Waterloo Dutchmen in 1955 as they prepared to represent Canada at the 1956 Olympics. He scored 14 points in that tournament as the team won the bronze medal.
He continued to play for the Dutchmen until he retired in 1959.
Ad blocker interference detected!
Wikia is a free-to-use site that makes money from advertising. We have a modified experience for viewers using ad blockers

Wikia is not accessible if you've made further modifications. Remove the custom ad blocker rule(s) and the page will load as expected.