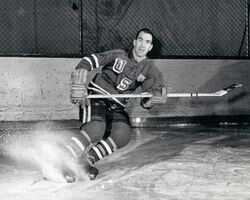 Olympic medal record
Men's Ice hockey
Competitor for United States
Gold
1960 Squaw Valley
Team
Paul Herbert Johnson (born May 18, 1936 in West St. Paul, Minnesota) is a former ice hockey forward. He was a member of the United States hockey team that won the gold medal at Squaw Valley, California, USA during the 1960 Winter Olympics. He scored the pivotal go-ahead goal in the semifinal game against Canada.