Ad blocker interference detected!
Wikia is a free-to-use site that makes money from advertising. We have a modified experience for viewers using ad blockers

Wikia is not accessible if you've made further modifications. Remove the custom ad blocker rule(s) and the page will load as expected.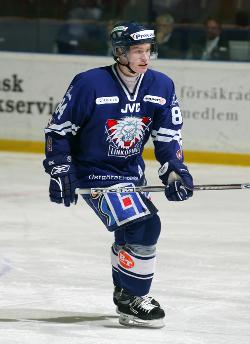 Patric Bo Linus Blomdahl (born January 30, 1984) is a Swedish professional ice hockey winger, currently playing for AIK of the Elitserien.
Blomdahl spent four years with Linköpings HC, winning Swedish Championship silver medals in each of his two last seasons, before signing a two-year contract with Frölunda in 2008.
Career statistics
Edit
Regular season and playoffs
Edit
 
 
Regular Season
 
Playoffs
Season
Team
League
GP
G
A
Pts
PIM
GP
G
A
Pts
PIM
2001–02
AIK IF
J20
20
6
7
13
18
4
0
0
0
4
2002–03
AIK IF
J20
19
6
5
11
109
—
—
—
—
—
2002–03
AIK IF
Allsv
21
1
1
2
14
11
3
0
3
6
2003–04
AIK IF
J20
5
2
1
3
6
—
—
—
—
—
2003–04
AIK IF
Allsv
42
8
4
12
46
11
1
1
2
0
2004–05
IK Nyköpings Hockey
Allsv
37
3
1
4
54
14
4
4
8
10
2004–05
Linköpings HC
SEL
4
0
0
0
4
—
—
—
—
—
2005–06
Linköpings HC
J20
1
1
2
3
0
—
—
—
—
—
2005–06
Linköpings HC
SEL
45
3
0
3
93
13
1
0
1
94
2006–07
Linköpings HC
SEL
47
0
1
1
106
15
6
3
9
12
2007–08
Linköpings HC
SEL
52
7
3
10
100
16
4
2
6
36
2008–09
Frölunda HC
SEL
48
5
2
7
116
11
0
0
0
31
2009–10
Frölunda HC
SEL
49
6
2
8
90
7
1
0
1
16
SEL totals
245
21
8
29
509
62
12
5
17
189
External links
Edit