The Pason Centennial Arena is an indoor ice hockey facility located in Okotoks, Alberta. built in 2006.  The 1,500 seat arena is home to the Okotoks Oilers of the Alberta Junior Hockey League who have played in the arena since it has opened.  The facility was previously known as the Foothills Centennial Arena.  The arena replaced the town's previous facility the Murray Arena.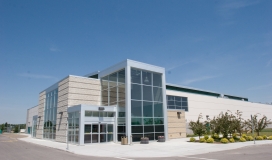 Ad blocker interference detected!
Wikia is a free-to-use site that makes money from advertising. We have a modified experience for viewers using ad blockers

Wikia is not accessible if you've made further modifications. Remove the custom ad blocker rule(s) and the page will load as expected.