The Valley Golden Knights are a Junior ice hockey team based out of the  Johnny Leroux Stittsville Community Arena in the Stittsville section of Ottawa.  They play in the National Capital Junior Hockey League.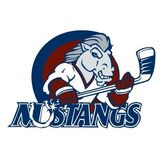 The Maxville Mustangs were founded in 1998. In 2010, the Mustangs were sold to investors in Papineauvile, Quebec and became the Vikings playing out of the Aréna Joseph-Lucien Malo.
On July 10th, 2017 it was announced that the team would be relocating to the St-Andre-Avellin Arena in St-Andre-Avellin, Quebec and would be renamed to the Papineau Vikings.
In May of 2018 the franchise was sold and relocated to the Stittsville neigbourhood of Ottawa and were relabeled as the Valley Golden Knights while being .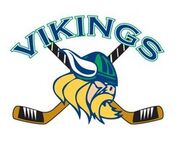 Season-by-season record
Edit
Note: GP = Games Played, W = Wins, L = Losses, T = Ties, OL = Overtime Losses, GF = Goals for, GA = Goals against
Season
GP
W
L
T
OL
GF
GA
Points
Finish
Playoffs
2004-05
36
5
30
0
1
82
246
11
7th EOJCHL
Lost Quarter-final
2005-06
36
10
22
-
4
151
211
24
6th EOJCHL
Lost Quarter-final
2006-07
34
18
12
-
4
170
151
40
4th EOJCHL
Lost Division Semi-final
2007-08
36
11
23
-
2
120
185
24
6th EOJCHL
Lost Quarter-final
2008-09
34
14
19
-
1
160
191
29
6th EOJCHL
Lost Division Semi-final
2009-10
34
13
17
-
4
142
171
30
6th EOJCHL
Lost Quarter-final
2010-11
34
11
20
-
3
104
148
25
7th NCJHL
Lost Quarter-final
2011-12
32
8
24
-
0
95
149
16
9th NCJHL
Folded
2012-13
34
17
15
-
2
132
122
36
4th NCJHL
Lost Quarter-final
2013-14
32
26
5
-
1
173
106
53
1st NCJHL
Lost Semi-final
2014-15
32
23
6
-
3
191
116
49
2nd NCJHL
Won Quarters - 4-1 (Rockets)
Won Semi-final - 4-1 (Eagles)
Won Finals - 4-3 (Panthers)
2015-16
34
25
7
-
2
180
104
52
1st of 5 North
2nd of 10 NCJHL
Won Div Semifinals- 4-1 (Bandits)
Won Div Final 4-0 (Volant)
Won Finals - 4-3 (Panthers)
2016-17
32
20
12
0
-
163
105
40
2nd of 9 NCJHL
Lost Quarterfinals- 3-4 (Volant)
2017-18
33
25
8
0
-
203
85
50
1st of 12 NCJHL
Won Div Semifinals- 4-0 (Cougars)
Won Div Final 4-2 (Beavers)
Won Finals - 4-3 (Rockets)
Individual player awards
Edit
| | | |
| --- | --- | --- |
| Season | Name | Award |
| 2012-13 | Benoit Lavigne | Rookie of the Year |
| | Kevin Mallette | Best Goaltender |
| | Maxime Roussel | Best Defensive Forward |
| 2008-09 | Adam Larivière | Best Defensive Forward |
| 2007-08 | Adam Larivière | Most Improved Player |
| 2006-07 | Shane O'Brien | Top Scorer |
| | Shane O'Brien | Regular Season MVP |
| | Trevor Jacquard | Coach of the Year |
| | Ian Henderson | Executive of the Year |
| 2005-06 | Steven Stewart | Most Improved Player |
| | Ian Henderson | Executive of the Year |
| 2003-04 | Shane O'Brien | Rookie of the Year |
| 2001-02 | Nick Adam | Rookie of the Year |
Mustangs individual records
Edit
Regular season
Edit
Most Goals - Game
Most Goals – Season

35 - Shane O'Brien(2006–2007)

Most Goals - Career

87 - Shawn Borris (2005–2009)

Most Assists - Game

8 - Shane O'Brien (Feb 6/06)

Most Assists - Season

51 - Shane O'Brien (2006–2007)

Most Assists - Career

129 - Shane O'Brien (2004–2007)

Most Games - Career

161 - Jonathan Bray (2001–2004)

Most Penalty Minutes – Season

229 - Ted Lachance( 2002–2003)

Most Penalty Minutes - Career

575 - Andrew Michaud (2004–2007)

Most Points – Season

86 - Shane O'Brien (2006–07)

Most Points - Career

199 - Shane O'Brien (2004–2007)
Most Assists by a goalie - Season

2 - Dan Desnoyer (2002–2003)

Most Games played by a goalie - Season

32 - Joel Morrissey(2006–2007)

Most Games played by a goalie - Career

66 - Joel Morrissey (2005–2008)
Most Goals - Career

11 - Shawn Borris (2005–2009)

Most Goals - Season

4 - Grant Mitchell (2008–2009)
4 - Richard Mulligan (2008–2009)

Most Assists - Career

10 - Adam Lariviere (2005–2009)
10 - Shane O'Brien (2004–2007)

Most Assists - Season

6 - Adam Lariviere (2008–2009)
6 - Ryan Brady-Gratton (2008–2009)
6 - Steven Knapp (2008–2009)

Most Career Games

21 - Jonathan Bray (2001–2004)

Most Career Points

17 - Shawn Borris (2005–2009)
Leading scorer in a season by yearEdit
2008 - Shawn Borris(71)
2007 - Shawn Borris(40)
2006 - Shane O'Brien(86)
2005 - Shane O'Brien(50)
2004 - Jonathan Bray(30)
2003 - Jonathan Bray & Shane O'Brien(36)
2002 - Jonathan Bray(34)
2001 - Nick Adam(41)
2000 - Pat Berlinguette(28)
1999 - Brad McMillan(38)
External links
Edit