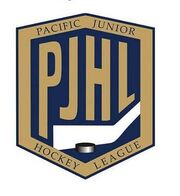 The Pacific Junior Hockey League is a Junior "B" ice hockey league in British Columbia, Canada, sanctioned by Hockey Canada. The winner of the PJHL playoffs competes with the champions of the Kootenay International Junior Hockey League and the Vancouver Island Junior Hockey League for the Cyclone Taylor Cup, the British Columbia Provincial Title. The winner of the Cyclone Taylor Cup moves on to compete for the Western Canada "B" Crown, the Keystone Cup.  The league was previously known as the Pacific International Junior Hockey League until 2011.
Harold Brittain Conference
Team
Centre
Arena
Abbotsford Pilots
Abbotsford, British Columbia
MSA Arena
Aldergrove Kodiaks
Aldergrove, British Columbia
Aldergrove Community Arena
Langley Trappers
Langley, British Columbia
George Preston Arena
Mission City Outlaws
Mission, British Columbia
Mission Leisure Centre
Ridge Meadows Flames
Maple Ridge, British Columbia
Cam Neely Arena at Planet Ice
Surrey Knights
Surrey, British Columbia
North Surrey Rec Center
Tom Shaw Conference
Team
Centre
Arena
Delta Ice Hawks
Delta, British Columbia
Ladner Leisure Centre
Grandview Steelers
Burnaby, British Columbia
Burnaby Winter Club
North Vancouver Wolf Pack
North Vancouver, British Columbia
Harry Jerome Arena
Port Moody Black Panthers
Port Moody, British Columbia
Port Moody Arena
Richmond Sockeyes
Richmond, British Columbia
Minoru Arena
Champions
Edit
2017 Aldergrove Kodiaks
2016 Mission City Outlaws
2014 Aldergrove Kodiaks
2013 Richmond Sockeyes
2012 Delta Ice Hawks
2011 Richmond Sockeyes
2010 Aldergrove Kodiaks
2009 Richmond Sockeyes
2008 Grandview Steelers
2007 Abbotsford Pilots
2006 Delta Ice Hawks
2005 Abbotsford Pilots
2004 Richmond Sockeyes
2003 Richmond Sockeyes
2002 Abbotsford Pilots
2001 Delta Ice Hawks
2000 Abbotsford Pilots
1999 Abbotsford Pilots
1998 Ridge Meadows Flames
1996 Ridge Meadows Flames
1994 Grandview Steelers
1993 Coquitlam Warriors
1992 Richmond Sockeyes
1991 Coquitlam Warriors
1990 Burnaby Bluehawks
1989 Abbotsford Pilots
1988 White Rock Whalers
1987 Burnaby Bluehawks
1986 Northwest Americans
1985 North Shore W.C. Flames
1984 North Shore W.C. Flames
1983 North Shore W.C. Flames
1982 Northwest Americans
1981 Northwest Americans
1980 Northwest Americans
1979 Burnaby Blazers
1978 Richmond Rebels
1977 Richmond Rebels
1976 Northwest Americans
1975 Burnaby Blazers
1974 Point Grey Blades
1973 Nor Wes Caps
1972 Nor Wes Caps
1971 Nor Wes Caps
1970 Chilliwack Jets
1969 Nor Wes Caps
1968 Grandview Steekers
1967 Richmond Juniors
Former Member Teams
Edit
Defunct or relocated teams
Edit
External links
Edit
Ad blocker interference detected!
Wikia is a free-to-use site that makes money from advertising. We have a modified experience for viewers using ad blockers

Wikia is not accessible if you've made further modifications. Remove the custom ad blocker rule(s) and the page will load as expected.