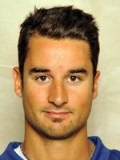 Drafted by Washington Capitals 3rd round (#90) in 2001 NHL Entry Draft
spent the better part of four years with the Calgary Hitmen. ... acquired by the Moose Jaw Warriors in the latter stages of the 2002-03 season. ... over the course of his final two seasons in the WHL, registered 141 points (84-57-141). ... played 4 games in the NHL for Washington Capitals in 2003. ... won the Calder Cup with Hersey Bears in 2006. ... played over two hundred games in the high quality AHL for Portland, Hershey, and Toronto. ... moved to Italy to play for SHC Fassa in 2008. ... named the Elite League Newcomer of the Season in 2010. ...
Career Statistics
Edit
Awards & Achievements
Edit
Calder Cup American Hockey League Championship (2006)
External links
Edit
Ad blocker interference detected!
Wikia is a free-to-use site that makes money from advertising. We have a modified experience for viewers using ad blockers

Wikia is not accessible if you've made further modifications. Remove the custom ad blocker rule(s) and the page will load as expected.