This article or section is in the middle of an expansion or major revamping. You are welcome to assist in its construction by editing it as well. If this article has not been edited in several days, please remove this template.
This article was last edited by Mark Staffieri (talk| contribs) 5 years ago. (Purge)
The Ottawa Senators (formerly known as the Ottawa Capitals) are a women's ice hockey team that compete in the Provincial Women's Hockey League in Ontario, Canada.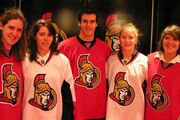 On March 26, the Senators participated against the Carleton Lady Ravens in the Shoot for the Stars charity hockey game to raise funds for the Children's Wish Foundation. The Senators prevailed by a 3-1 tally.[1] During the summer of 2011, eight current and former Ottawa Senators PWHL players (along with Amanda Leveille, Morgan Richardson, Cydney Roesler: U-18 camp; Jamie Lee Rattray, Isabel Menard, Stefanie McKeough and Erica Howe: U22 camp) participated in the Hockey Canada Under 18 and Under 22 training camps at the Canadian International Hockey Academy in Rockland, Ontario.[2]
References
Edit
Ad blocker interference detected!
Wikia is a free-to-use site that makes money from advertising. We have a modified experience for viewers using ad blockers

Wikia is not accessible if you've made further modifications. Remove the custom ad blocker rule(s) and the page will load as expected.