Ad blocker interference detected!
Wikia is a free-to-use site that makes money from advertising. We have a modified experience for viewers using ad blockers

Wikia is not accessible if you've made further modifications. Remove the custom ad blocker rule(s) and the page will load as expected.
The Ottawa Jr. Canadians are a Canadian Junior ice hockey team from Ottawa, Ontario. They formerly played in the Eastern Ontario Junior Hockey League of the Ottawa District Hockey Association.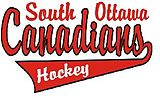 Following the 2014-15 season in an attempt to create a better player development model the EOJHL and the CCHL set a new agreement. Resulted in the league re-branding itself as the Central Canada Hockey League Tier 2 (CCHL2), reduced to 16 teams and two divisions. The Canadians are in the Martin Division.
Season-by-Season results
Edit
Season
GP
W
L
T
OTL
GF
GA
P
Results
Playoffs
1981-82
35
32
2
1
-
320
113
65
1st EO-NWest
Won League
1982-83
32
26
9
7
-
255
195
59
2nd EO-Valley
1983-84
Statistics Not Available
1984-85
36
23
12
1
-
227
187
47
3rd EO-Valley
1985-86
36
30
4
2
-
276
151
62
1st EO-NWest
1986-87
40
29
9
2
-
255
148
60
1st EO-Metro
1987-99
Statistics Not Available
1999-00
42
24
14
4
3
211
170
56
3rd EO Metro
Lost Division S-final
2000-01
42
26
15
4
2
186
147
58
3rd EO Metro
Lost Division Final
2001-02
40
23
17
0
1
183
151
47
3rd EO Metro
Lost Division S-final
2002-03
40
23
17
0
2
199
182
48
2nd EO Metro
Lost Division S-final
2003-04
40
24
15
1
2
214
157
51
1st EO Valley
Lost Semi-final
2004-05
40
22
12
1
5
210
173
50
2nd EO Metro
Lost Division Final
2005-06
40
18
17
0
5
176
176
41
4th EO Metro
Lost Division S-final
2006-07
40
24
14
1
1
216
155
50
3rd EO Metro
Lost Division S-final
2007-08
39
26
10
2
1
199
137
55
3rd EO Metro
2008-09
39
24
10
4
1
202
133
53
2nd EO Metro
2009-10
44
29
14
0
1
206
169
59
2nd EO Metro
Won League
2010-11
42
25
14
2
1
150
125
53
3rd EO Metro
Lost Division S-Final
2011-12
42
11
25
3
3
149
196
28
5th EO Metro
DNQ
Season
GP
W
L
OTL
SOL
GF
GA
P
Results
Playoffs
2012-13
41
30
11
0
0
216
130
60
1st EO Metro
Won League
2013-14
41
25
12
1
3
162
131
54
2nd EO Metro
Lost Division Final
2014-15
40
17
19
1
3
131
150
38
5th EO Metro
DNQ
2015-16
44
13
28
1
2
126
199
29
7th of 8 Martin Div
13th of 16 EO Metro
DNQ
External links
Edit