Ad blocker interference detected!
Wikia is a free-to-use site that makes money from advertising. We have a modified experience for viewers using ad blockers

Wikia is not accessible if you've made further modifications. Remove the custom ad blocker rule(s) and the page will load as expected.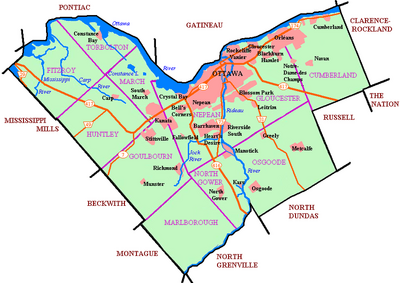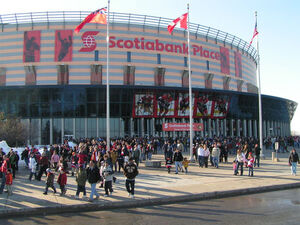 Ottawa is the capital of Canada and the country's fourth largest municipality, as well as the second largest city in the province of Ontario. It is located in the Ottawa Valley on the eastern edge of the province of Ontario. Ottawa lies on the banks of the Ottawa River, a major waterway that forms the boundary between Ontario and Quebec.
The city of Ottawa has a population of 812,129. The metropolitan area, which includes the city of Gatineau in Quebec, has a population of over 1,220,000.
Major Professional
Edit
Other early era teams
Edit
Major Junior
Edit
(OHA, Jr. A., 1967-1974) join OMJHL
(OMJHL, 1974-1980) league renamed OHL
(OHL, 1980-Present)
(Ottawa City League, 1927-1932)
(Ottawa City League, 1937-1939
(Ottawa City League, 1940-1941)
(Ottawa City League, 1944-1947)
(Ottawa City League, 1943-1944)
(Interprovincial Junior League, 1959-1960) mid-season replacement team, disbanded
(Ottawa City League, 1938-1939)
(Ottawa City & District Junior League, 1939-1940)
(Ottawa City League, 1924-1925)
(Ottawa City League, 1927-1929)
(Central Junior A Hockey League, 1992-1999) league becomes CJHL
(Central Junior Hockey League, 2009-2010) league renamed CCHL
(Central Canadian Hockey League, 2010-Present)
(Ottawa City League, 1928-1930) renamed Senators
(Ottawa City League, 1931-1932)
(Ottawa City League, 1930-1933)
(Ottawa City League, 1935-1938)
(Independent team in Otttawa District Junior Playoffs 1944-1945)
(Ottawa-Hull and District Junior Hockey League, 1962-1964) join CJHL
(Central Junior A Hockey League, 1964-1965) folded
(Ottawa City League, 1924-1925)
(Ottawa City League, 1927-1937) withdrew
(Ottawa City League, 1935-1936)
(Ottawa City League, 1939-1941)
(Ottawa City Senior League, 1920-1921)
(Ottawa City Senior League, 1925-1932) merge with Hull Volants
(Ottawa City Senior League, 1935-1940)
(Quebec Hockey League, 1956-1957) join OHA Sr. A League
(OHASr. A League (1957-1959) join EPHL
(Interprovincial Hockey Union, 1913-1914) join Ottawa City League
(Ottawa City Senior League, 1915-1919)
(Senior Hockey Association, 1947-1948) join ECSHL
(Eastern Canada Senior Hockey League), (1948-51)
(Interprovincial Hockey Union, 1908-1911)
(Ottawa City Senior League, 1919, 1920
(Ottawa City Senior League, 1921-1934)
(Ottawa City Senior League, 1937-1945) disband with league
(Ottawa City Senior League, 1920-1921)
(Ottawa City Senior League, 1934-1935)
(Ottawa City Senior League, 1934-1936)
(Ottawa City Senior League, 1938-1943)
(Senior Hockey Association, 1947-1948)
(Ottawa City Senior League, 1921-1923)
(Ottawa City Senior League, 1934-1934) late season replacement team for LaSalle-Hull
unsorted portion of list
Edit
Junior teams
Edit
University teams
Edit
Champions
Edit