Ad blocker interference detected!
Wikia is a free-to-use site that makes money from advertising. We have a modified experience for viewers using ad blockers

Wikia is not accessible if you've made further modifications. Remove the custom ad blocker rule(s) and the page will load as expected.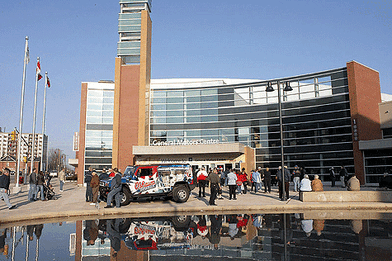 Oshawa is a city of about 140,000 people located in Southern Ontario 60 kilometers from Toronto.
In hockey it is most famous for the Oshawa Generals junior hockey team. The team was named after General Motors, whose Canadian headquarters is located in the city. Bobby Orr spent his junior career in this city.
The Hambly Arena burned down in 1953 and was not replaced until 1965.
Oshawa hosted the 1987 Memorial Cup.
(Ontario Hockey Association Jr., 1908-1919, 1920-1927,1928-1932)
(Ontario Hockey Association Senior B, 1919-1931, 1934-1935) moved to OHA Intermediate A
(OHA Intermediate A, 1931-1932) 
(Metro Junior A Hockey League, 1989-1998) join OPJAHL
(Ontario Provincial Junior Hockey League, 1998-2006) become Durham Fury
University teams
Edit
Championships
Edit