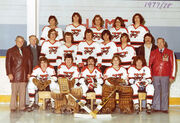 The Oro 77's were a Junior C team that played in Oro-Medonte, Ontario. They were in the Georgian Bay Junior C Hockey League from 1977-78 through the 1991-92 season.
The 77's never won the league title, but did make it to the final three times in 1979, 1980, and 1990.
The Oro-Medonte 77's were named in their honour.