Ad blocker interference detected!
Wikia is a free-to-use site that makes money from advertising. We have a modified experience for viewers using ad blockers

Wikia is not accessible if you've made further modifications. Remove the custom ad blocker rule(s) and the page will load as expected.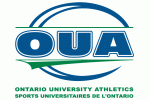 Ontario University Athletics (OUA) is a conference in Canadian Interuniversity Sport (CIS). It was established in 1971 as the "Ontario Universities Athletics Association" (OUAA) and changed to its current name in 1997. The OUA men's hockey league includes 3 teams from the RSEQ and is a 20-team top tier scholastic league operating in Ontario and Quebec. The other current conferences in the CIS are the Canada West Universities Athletic Association (CWUAA) and Atlantic University Sport (AUS).
Previous Conferences
Edit
NOTES:
Participating UniversitiesEdit
West DivisionEdit
East DivisionEdit
Formerly Participating Universities - OntarioEdit
Formerly Participating Universities - QuebecEdit
Formerly Participating Universities - no longer in CISEdit
Table of Ontario and Quebec ChampionsEdit
In progress - click on team name to go to conference page for that season.
º Senior Intercollegiate League season, not OSLC
ø also won the Intrnational Intercollegiate League
* denotes Unversity Cup winner

National wild-card qualifiers for University Cup:
1983: Toronto
1986: Laurier
1987: Western Ontario
1999: York
2003: Lakehead
2006: Laurier
2012: UQTR
2014: Carleton
National links:
Western links:
Atlantic links:
Ontario-Quebec links:
International links:
College links:
From 1997 until present, the Women's league has been known as been abbreviated as the OUA Women's League.
Champions
Edit
2014 Laurier
2013 Queen's
2012 Laurier
2011 Queen's
2010 Laurier
2009 Laurier
2008 Laurier
2007 Laurier
2006 Laurier
2005 Laurier
2004 Laurier
2003 Toronto
2002 Laurier
2001 Toronto
2000 Toronto

1999 Laurier
1998 Guelph
1997 York
1996 Toronto
1995 Guelph
1994 Toronto
1993 Toronto
1992 Toronto
1991 Toronto
1990 Toronto
1989 Toronto
1988 Toronto
1987 York
1986 Toronto
1985 Toronto

1984 Toronto
1983 York
1982 Toronto
1981 Toronto
1980 Toronto
1979 Queen's
1978 McMaster
1977 Queen's
1976 McMaster
1975 Queen's
1974 Guelph
1973 Queen's
1972 Guelph
National links:
Ontario-Quebec links: