Oncenter War Memorial Arena (formerly Onondaga County War Memorial) is an arena in Syracuse, New York. It presently serves as the home venue for the Syracuse Crunch of the American Hockey League. It also was the home of the Syracuse Blazers from 1967 to 1977.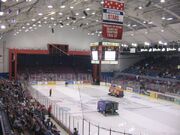 Designed by Edgarton and Edgarton and built from 1949 through 1951, the structure is significant as an example of a World War I and World War II commemorative.
It seats 6,159.
Ad blocker interference detected!
Wikia is a free-to-use site that makes money from advertising. We have a modified experience for viewers using ad blockers

Wikia is not accessible if you've made further modifications. Remove the custom ad blocker rule(s) and the page will load as expected.