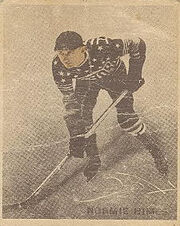 Norman Lawrence Himes (April 13, 1903 in Galt, Ontario – September 14, 1958) is a retired professional ice hockey centre who played 402 games in the National Hockey League. He played for the New York Americans.
He played in his hometown of Galt at the junior, intermediate, and senior levels in the Ontario Hockey Association from 1918 to 1926. The New York Americans signed him as a free agent in 1926.
Himes played from 1926-27 through 1934-35 for the Americans. His best year was in 1929-30, when hye scored 28 goals and 22 assists. He then played two seasons for the New Haven Eagles and retired in 1937. In that last year, 1936–37, he was the Eagles' coach.
Later, Himes coached the senior London Streamliners in 1940-41 and the junior Galt Red Wings in 1946-47.
External links
Edit
Ad blocker interference detected!
Wikia is a free-to-use site that makes money from advertising. We have a modified experience for viewers using ad blockers

Wikia is not accessible if you've made further modifications. Remove the custom ad blocker rule(s) and the page will load as expected.